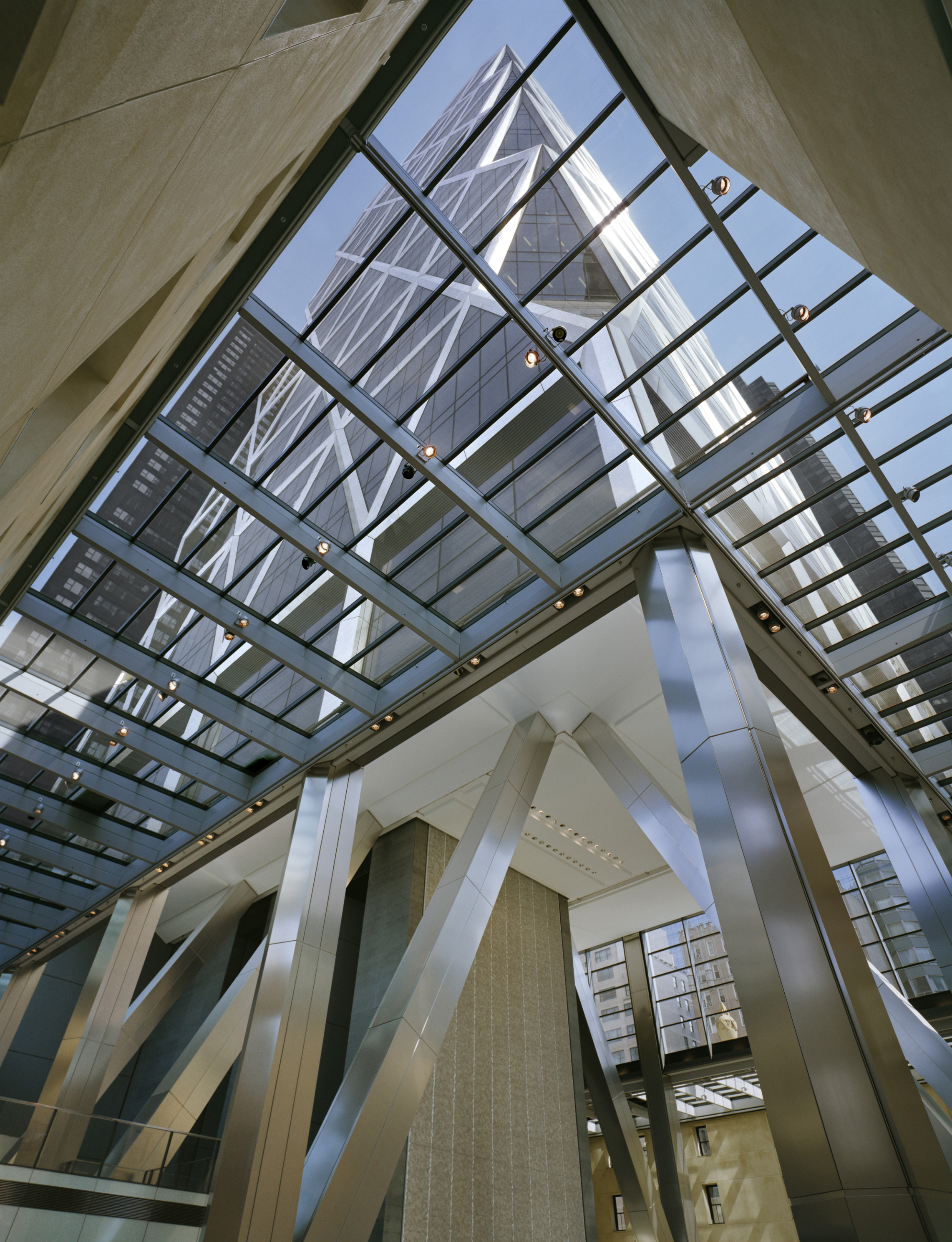 Foster and Partner's Hearst Corporation Tower in Manhattan has been claimed as the city's first "Green" building ever since it was completed in early 2006.  The skyscraper was constructed within an existing six-story cast stone façade of the original Hearst building in an effort to preserve the landmark site. It has received numerous awards for its successful design, including the 2006 Emporis Skyscraper Award for best new skyscraper, and the 2008 International Highrise Award.  Most importantly, it has paved the way and set new standards for sustainable skyscraper design in New York City and around the world.
The Hearst Tower's most recognizable feature is its exterior triangular framing system.  Not only is aesthetically attractive, but the unique framing system also uses 20% less steel than a conventional frame.  The steel that was used for the building is 80% recycled steel. The roof of the building is designed to collect water, where it is then kept in a storage tank in the basement.  That water is then used for heating and cooling the building, as well as irrigating plants and replenishing a cascading water feature in the first floor atrium.  Overall, these features reduce the energy consumed by the Hearst Tower to 25% less than New York City's minimum requirement.  This gave the building the right to be LEED Gold Certified.
In such a large city like New York, it is extremely important that the methods for highrise design change.  The Hearst Tower has been a starting point for this change.  In these slow economic times, the amount of new construction in New York City has been slow as well.  However, the new highrises that being constructed are using the Hearst Tower as a leading example in sustainable design, and some have far exceeded it.  Two buildings that stand out are the new Seven World Trade Center, and The Bank of America Tower at One Bryant Park.  Seven World Trade Center earned LEED Gold not too long after the Hearst Tower was completed, and The Bank of America Tower is the first skyscraper to earn the certification of LEED Platinum.  These buildings have many of the same features as the Hearst Tower, such as rain water collection systems and recycled steel frames.  One Bryant Park exceeded the design sustainability of the other two buildings mentioned here by including roof gardens that cool the roof temperatures, and even a wind turbine on the roof to produce energy to the building.
At such a time of need for sustainable skyscrapers, the Hearst Tower has set a prime example for the way they should be built in the 21st Century.  New York City's designs for sustainable skyscrapers have been moving in the right direction, and need to continue being as "Green" as possible. Are there any sustainable highrises in your closest city?
Original text by: Brian Koval
Picture by: http://www.international-highrise-award.com/en/presse081.html